Hotel Alceste
Restaurant
The Restaurant in the Hotel Alceste is both elegant and welcoming, and offers traditional Sicilian cuisine prepared by the expert and passionate hands of our skilful chefs, who will excite your palate with traditional and elaborate dishes, making your stay at our hotel in the Province of Trapani unforgettable.
Two rooms are available: the Principale on the ground floor is furnished in a classic style, with seating for 180, while the Rustica can seat 70 and is decorated with antique farming utensils handed down over the generations.
Our traditional Sicilian cuisine will sweep you away with its intensity and rich variety of specialities and flavours, garnered from centuries of seafaring and farming tradition.
In fact, Sicily has a particularly concentrated culinary style, "low in fat but high in flavour", using simple and genuine ingredients such as vegetables and local cheeses (from pecorino to fresh ricotta, artichokes and aubergines) together with fish from the sea, like swordfish, tuna, sea bass, lobsters, crustaceans and above all the "famous" Selinunte sardines.
The dishes are enriched with fantasy, scents and colours that are brought out with the use of sugar, vinegar, currants and pine nuts, fennel and sesame seeds, dill and the unmistakable Extra Virgin Olive Oil "Nocellara del Belice" capable of enhancing even the most simple dish with its intense green colour, fruity aroma and light spicy flavour.
This oil has recently obtained the DOC (Registered Denomination of Origin) quality mark, the only quality mark currently recognised all over Europe. Furthermore, studies have shown the oil has exceptional organoleptic properties. 
Try the famous Castelvetrano black bread, with its sweet and strong flavour and its dark, toasted colour, produced by the mix of two types of flour (wheat flour and an ancient local variety known as "Tumminia" flour).
Taste our infinite variety of succulent pasta and rice dishes and main dishes with meat or fish, creating a pleasurable combination of food and relax for your seaside Sicilian holiday.
 The Alceste 
Restaurant
 is the ideal location for banquets, meetings and working breakfasts.

Services
Territory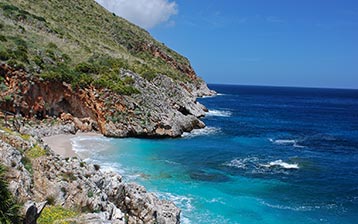 The stretch of calcareous rocks that is in the Reserve, extends in the Western part of the Gulf of Castellammare, along the Eastern side of the peninsula of Capo San Vito, that overlooks the Tirreno Sea, between Castellammare del Golfo and Trapani.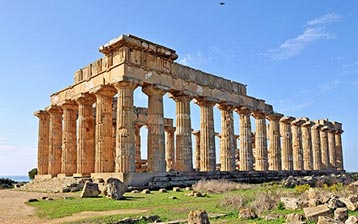 The archeological park of Selinunte it is nowadays considered as the widest and majestic in all Europe: it extends for 1.740 square km and includes a lot of temples, sanctuaries and altars. Right close to the coast there is the Acropoli, on which rise 4 temples: the D temple, the C temple, the A temple, the O temple.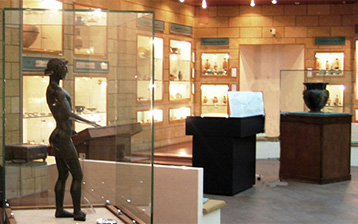 In the Civic Museum of Castelvetrano it is possible to admire not only the famous Efebo, a bronze statue, but also a wonderful collection of Attican and Corinthian pottery, an amazing crater with red figures, a collection of coins ad a marble statue of the Virgin, made by Francesco Laurana.


"Ho trascorso otto giorni ad agosto di quest'anno in completo relax e riposo. Sono stata circondata da un'ambiente che mi ha fatto sentire come in famiglia. Il mangiare di ottima qualità e ben cucinato. Mi riprometto di tornare non appena possibile."
Marina C

"Sono stata dirottata su questo albergo per indisponibilità della struttura che avevo prenotato: sono stati 2 giorni piacevolissimi! Estremamente cortesi e disponibili la signora Catena e tutto lo staff, stanza silenziosa, pulitissima e confortevole, colazione buona ma senza nulla di salato ma per affrontare una giornata al mare è perfetta"
Donatella B